Android gains against flat US iPhone market share
What do the US market share leaders for cell phones and smartphone operating systems have in common? Android.
Yesterday, ComScore released September to November US mobile subscriber market share. Yes, I initially thought to cover it then, but there was simply too much news from the first official day of the Consumer Electronics Show. So here we are a day later.
Most of the news reports about the data has focused on Android passing iOS for smartphone market share. But there's more interesting in the numbers than Android's ascendence. Comparing the three months ending in August and ending in November, Android's US market share rose from 19.6 percent to 26 percent. Apple's share rose slightly, from 24.2 percent to 25 percent. The data is fairly consistent with numbers released earlier in the week by Nielsen: Flat iOS market share growth and Android rapidly rising — 40.8 percent of recent purchasers chose a smartphone running Android.
It's revealing that iOS market share is flat, at least compared to Android, following release of iPhone 4, which, according to Nielsen, only gave iPhone a modest bump. Perhaps iPhone could really use that big price cut AT&T instituted today — iPhone 3GS for a cool 49 bucks. Or perhaps that oft-rumored Verizon iPhone could help boost sales. After all, Android is available on phones from all US carriers. Poor little iPhone only has AT&T. Please, take out your handkerchiefs.
Microsoft's mobile operating system declined during the same period from 10.8 percent to 9 percent. Lost market share isn't surprising. That it wasn't more is. Sales decline ahead of Windows Phone 7's release is to be expected. The first handsets shipped at the end of the forecast period.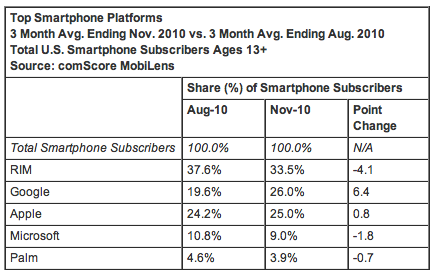 On the hardware side, Samsung ranked No. 1, with its share up to 24.5 percent from 23.6 percent between the two three-month series. Samsung is having a good run with Android-based Galaxy S series smartphones, selling over 10 million from June to end of 2010. In December, I bought the Galaxy S-based, Google-branded Nexus S. Two days ago, at CES, Samsung announced the SH100 digital camera, which uses Galaxy S phones as remotes, viewfinders and geotaggers.
Among the other top five, Numbers 2 and 3 — LG and Motorola — announced new Android-based smartphones and tablets this week at CES (Can you feel the noose tightening, Apple?)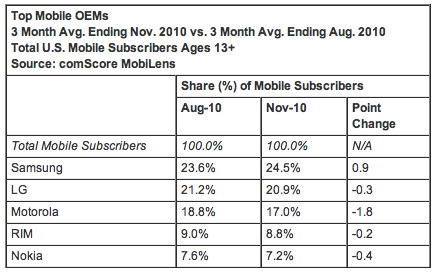 ComScore's data is for Americans 13 and older, 234 million of which used "mobile devices" (e.g. handsets) during the three months ending in November. The data is based on mobile phone subscribers. Smartphone ownership jumped 10 percent to 64.5 million during the same time period. What do people do with these devices? The majority of cell phone subscribers sent text messages (67.1 percent), while 35.3 percent used a browser and 33.4 percent downloaded apps.
Source: Betanews