Windows 10 May 2020 aka 2004 released!
The Windows 10 May 2020 Update has started to become available to customers around the world as a free update.
Since the beginning of this year, we have seen the world significantly change all around us. People, families and businesses are adjusting to new ways of working, learning and connecting. For many, our dining rooms have become home offices, our living rooms have turned into classrooms, and our kitchens social gathering spots and breakrooms. Amidst these changes, our needs to connect with one another and be productive from anywhere have never been more critical.
More than ever people are turning to Windows PCs to support fundamental human experiences. Students and professionals are using Office and Microsoft Teams for remote learning and collaboration, and whether they are down the street or across the world friends and families are celebrating accomplishments and holidays on Skype, even playing games together online to have fun.
As the world and people's routines change, it is important that we focus on meeting the over a billion people around the world relying on Windows where they are now. That next step comes today with the release of the Windows 10 May 2020 Update. The May 2020 Update comes with feature improvements that will help save you time and maybe even be a source of fun. The new update is available today for those who want to seek it. You can get the update in a few different ways, visit this blog post to learn more about how to get the May 2020 Update today.
Here's what's new in the Windows 10 May 2020 Update
Faster and easier connections. We're making it easier and faster to pair your Bluetooth devices to your compatible Windows 10 PC. Now you can take care of everything in notifications (instead of Settings) with fewer steps.
Go passwordless. Did you know—for improved security and a simple sign-in experience, you can sign in with your face, fingerprint, or PIN? It's easier than ever to enable passwordless sign-in for your Microsoft accounts: just go to Settings > Accounts > Sign-in options on your Windows 10 PC and select 'On' under 'Make your device passwordless'. Note that this is hardware dependent.
More ლ(╹◡╹ლ). We're bringing the fun by making more kaomoji available directly in the Windows emoji keyboard. To access you can use the shortcut, Windows key + Period key to access (⌐■_■).
Name your desktops. Now instead of "Desktop 1" or "Desktop 2" you can give your Virtual Desktops more descriptive, clever, or amusing names. Using Virtual Desktop in Windows 10 allows you to expand your desktop beyond the physical limitations of the space, organize groups of related tasks, and easily switch between them. Tackling what you want to—when you want to—just got a whole lot easier. Visit this post to learn more on how to access Virtual Desktop in Windows 10.
See gaming in a whole new light. New DirectX 12 Ultimate features provide smoother graphics with increased detail—all without sacrificing framerate*.
Customization and utility at your fingertips. Xbox Game Bar now supports third-party widgets, helping you customize the overlay experience to fit with the way you game.
Improvements to some go-to apps help make that job, assignment, side hustle, homework, workday, work week—all of it—just that much better
Memory improvements in Microsoft Edge. The browser is the most used application and where people spend a large portion of their time on Windows. Segment heap has been the default heap for UWP apps for a while now. Windows is excited to announce that one of the first Win32 applications that will take advantage of segment heap capabilities is Microsoft Edge. The early internal testing results of devices on the May 2020 Update are showing a memory usage reduction of up to 27% when browsing with Microsoft Edge. Individual device performance will vary based upon configuration and usage, but the lower memory usage could provide a better device experience because more memory would be available for apps to use. Microsoft will be opening this capability to more developers very soon with supporting materials. Developers that take advantage of the expanded availability of segment heap memory improvements can also optimize their Win32 app memory utilization on Windows. Please this page for the latest developer information.
Stay on top of your numbers. Keep the calculator close by—now you can choose to keep the Calculator app on top of everything.
Notepad newness. The beloved 30-year-old text editor has some small but mighty improvements. There's now wrap around find/replace, quick text zooming, and when you see an asterisk in the title bar you'll know you have unsaved changes.
Bringing your smartphone and Windows PC closer together. The May 2020 Update brings the popular Your Phone app's Calls feature to ARM supported PCs from Microsoft and our OEM partners. You will now be able to place, receive, or text reply to your incoming phone calls directly on your PC without having your Android phone right next to your PC. That's not all, with the Your Phone app, you can stay in your flow by sending or receiving texts, checking notifications and getting instant access to your Android phone's photos and apps via your computer's large screen and keyboard. To learn more about the Your Phone app visit this page.

The new Cortana chat-based experience is here. Your personal productivity assistant now has an updated chat-based user interface where you can type or speak requests in natural language to save time finding what you need and stay on track. For the best experience, sign in with your work or school account and connect with people, check your schedule, add tasks, set reminders and more**. Visit our Microsoft 365 Blog for more information and select the Cortana icon to try out the experience for yourself with requests such as:
"Am I free at [time]?"
"Who is [person]?"
"Find time with [person] to talk about [topic]"
"Join my meeting"
"Remind me to [task] at [time]"
"Change the brightness"
"Is it going to rain tomorrow?"
Accessibility improvements in Windows 10 to help empower everyone, everywhere
Narrator news. Narrator sounds have been revamped and are now more functional and responsive. There's also a new command to summarize a webpage, and you'll also hear some table reading improvements. Plus, Narrator will automatically start reading webpages and emails (when they're opened in Outlook and the Mail app).
Find that cursor faster. Windows Magnifier has a new ability to keep the text cursor in the center of the screen, making it easier and smoother to type.
More Eye Control. Drag and drop is now here! We've also made improvements to the pause experience and provided some new opportunities in Settings. Note that a third-party accessory is required to access this experience.
Language learnings. The Global Language Experience team continues to revamp Language Settings, bringing you quick and easy ways to check your settings at a glance. You'll also find improved typing experiences in Chinese, Japanese and Korean.
You can visit this blog post to learn more about the accessibility improvements coming in the May 2020 Update.
We believe that Windows is the most powerful, productive and secure platform to help you do your best work, learn, connect with the ones you love, and have fun. We are excited to deliver the Windows 10 May 2020 Update to the over a billion people around the world using Windows today. And we want to extend a sincere thank you to our customers and the millions of Windows Insiders who have been on the Windows journey with us and helped provide important feedback throughout the development process. Windows will continue to get better and better. Today is just the next step in our journey. More to come.
* DirectX 12 Ultimate available with supported games and graphics chips, and requires the latest Windows 10 update.
**Cortana in Windows 10 productivity capabilities is currently available in English in the United States and will roll out in the coming months to more regions and languages with regular app updates through the Microsoft Store. Until then, international users and non-English speakers can use Cortana to get answers from Bing and chat with Cortana.
---
Changes in Windows 10 May 2020 / Windows 10 2004
Optional update experience
Starting with Windows 10 20H1, you no longer need to access the Device Manager to manage your drivers and new devices drivers will not be installed automatically.
Instead, new drivers will be detected as 'Optional updates' and will be listed under the 'View optional updates' screen where they can be installed.
This new page can be found under Settings > Update & Security > Windows Update > View optional updates.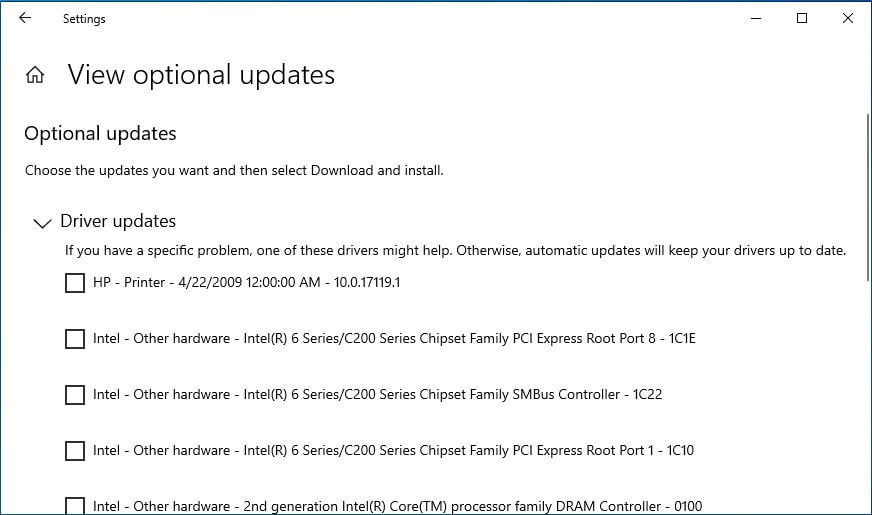 Task Manager gets an upgrade!
Windows 10's Task Manager is getting two new features – the first one allows you to see the disk type and the second one lets you monitor the temperature of the graphics card.

Reduced disk and processor utilization by Windows Search
In the past, many users would disable the Windows Indexer feature used by Windows Search because it used up too much CPU or caused high disk usage.
To prevent this from occurring, Windows 10 will use a new algorithm that detects high disk usage and activity, and if detected, will slow down the Windows Indexer.
"Based on this, we're introducing an algorithm that detects high disk usage and activity, so it can better identify peak usage times and manage the indexer accordingly. We're also making changes for developers to prevent searches of certain repositories and project folders to improve disk usage."
Download throttling options for Windows Update
Windows Update allows users to throttle bandwidth usage of Windows Update, but setting download throttling as a percent of available bandwidth isn't enough and some users are unable to reduce the impact on their internet connection.
Windows 10 20H1 introduces a new option that lets you set a specific speed that will be used to throttle Windows Update You can set this for both foreground and background downloads. This option also controls the bandwidth used by Windows 10 app store.
Users can access this option via Settings > Update & Security > Delivery Optimization > Advanced Options.
Passwordless experience
Microsoft is introducing passwordless sign-in for Microsoft accounts to strengthen your device sign-in. This allows Microsoft accounts to use 'modern multifactor authentication' such as Windows Hello, Fingerprint, and a PIN instead of passwords.
New Cortana experience
Windows 10 comes with a new Cortana experience that features a brand-new chat-based UI and it gives you the ability to type to interact with the digital assistant.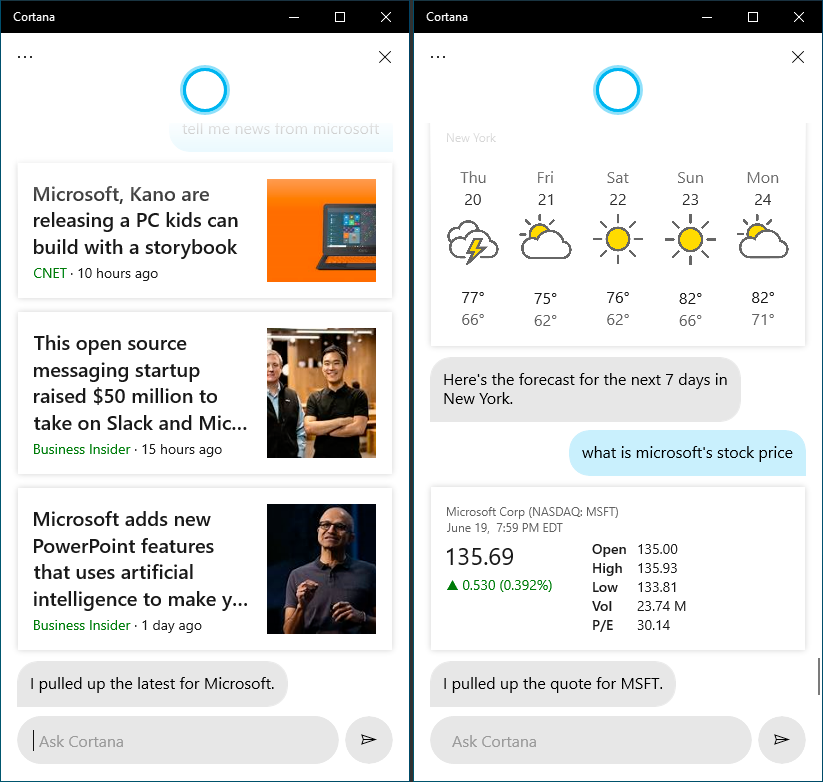 The updated Cortana supports both dark and light themes, Bing answers, Assistant conversations, allows you to open apps, set reminders, alarms, and timers as well. The firm has dropped jokes and other consumer-focused features.
Microsoft has created a less intrusive screen for "Hey Cortana" queries.
New speech and language models introduced.
Significantly improved performance.
Redesigned Network Status page
Microsoft has revamped the Network & Internet landing page in Settings. It offers more information about the network, so you can easily understand the connectivity of your device.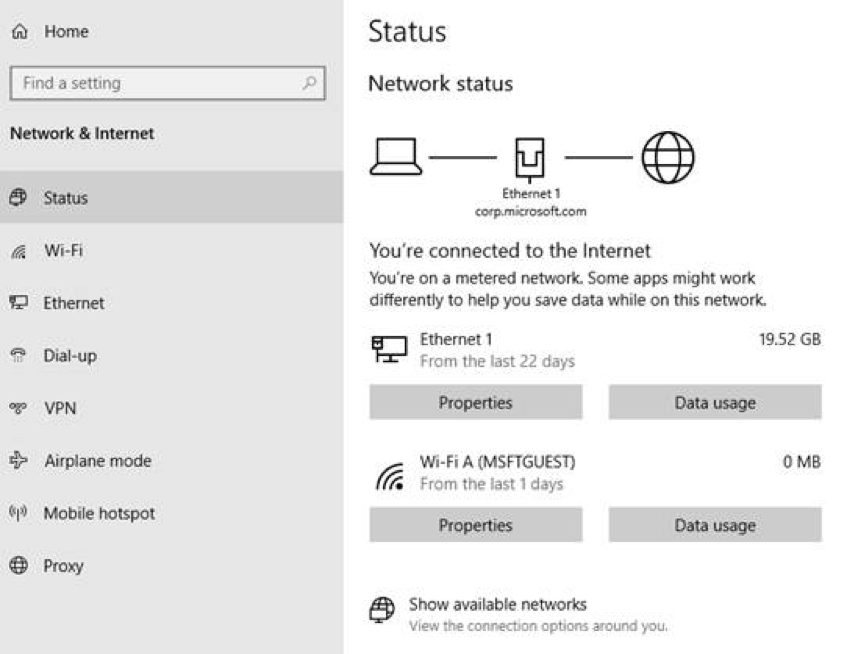 The new Network page displays all available connection interfaces on the Status page and you can now see the data usage on this page as well.
Windows Search improvements
Windows 10 2004 brings improvements to Windows Search that include:
Improved spelling correction for Apps & Settings searches. Microsoft is making significant changes to how Windows Search's built-in spell checker works, so you can find the exact file you're looking for.
Windows search will intelligently understand and correct small typos like "powerpiont" and "exce".
Windows Search now displays hints to improve Best match results under a 'Related:' line.
Account picture in Windows
You can now update the picture of your account that you use to sign in to Windows 10 quickly and the changes reflect across Windows, apps, and Microsoft sites that you use every day.
This can be done from Windows 10's Your info page with the 'Create your picture' option.
Optional Features
Windows 10's Settings > Apps & Features > Optional Features is getting the following new features:
Multi-select: The page finally allows you to select and install multiple optional features at the same time.
More useful information: It displays the installation date of each optional feature.
You can also view the status of your latest installs/uninstalls/cancels right on the main page.
Virtual desktops
You can now rename your Virtual desktops to quickly organize your office and personal work or multiple projects.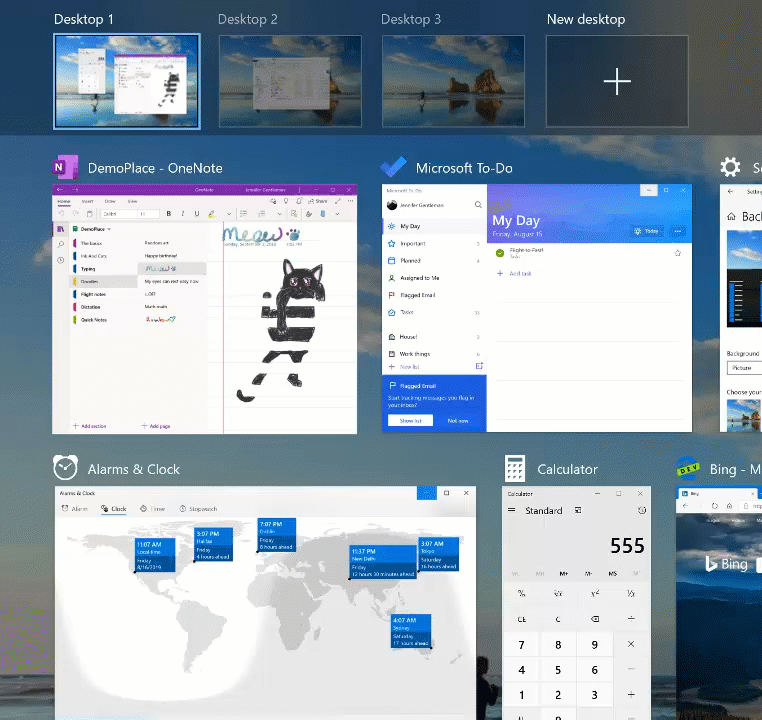 New Reset this PC from cloud feature
Windows 10's Reset this PC from Cloud is a new cloud recovery feature that allows users to reset their PC using Windows files downloaded from Microsoft's servers.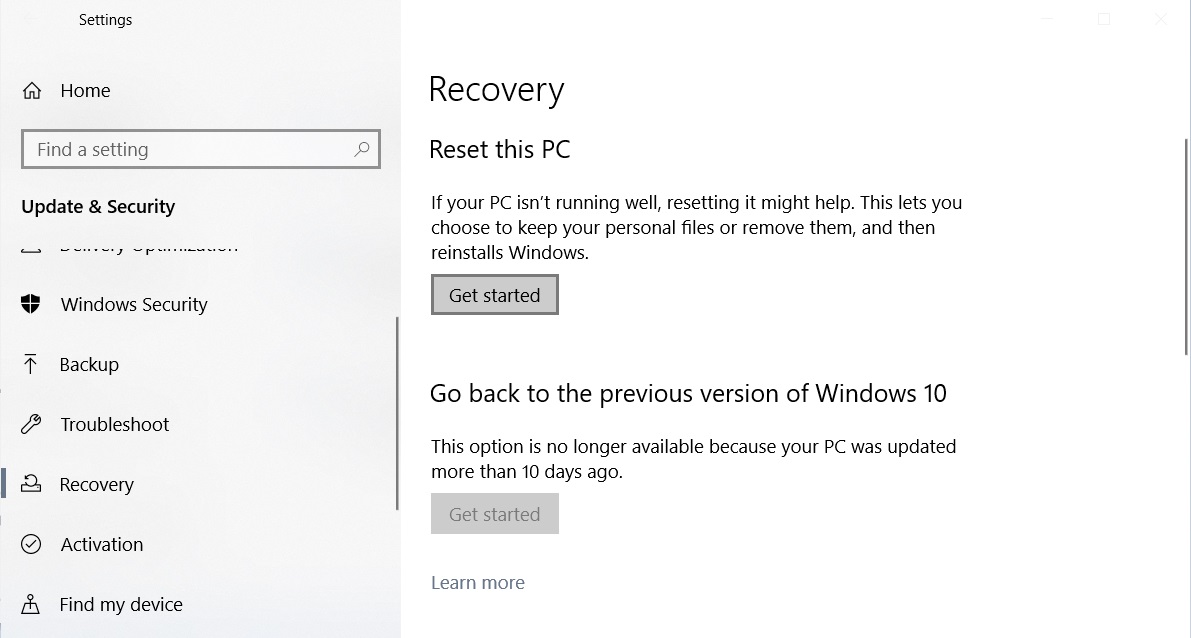 New tablet experience for 2-in-1 convertibles
Windows 10 version 2004 offers a better tablet experience with increased spacing between Taskbar icons, the search box on taskbar collapsed into an icon and File Explorer with a touch-optimized layout.
Windows Sandbox
Windows Sandbox, which was introduced with the May 2019 Update, is getting accessibility improvements in this release. With Windows 10 May 2020 Update, Windows Sandbox is getting support for Microphone, audio input devices, and the following two keyboard shortcuts:
Shift + Alt + PrintScreen activates the ease of access dialog for enabling high contrast mode.
Ctrl + alt + break allows entering/exiting fullscreen mode
SwiftKey's Typing Intelligence
Microsoft recently introduced SwiftKey's typing intelligence for Windows and Spring 2020 Update adds support for more languages:
Afrikaans (South Africa), Albanian (Albania), Arabic (Saudi Arabia), Armenian (Armenia), Azerbaijani (Azerbaijan), Basque (Spain), Bulgarian (Bulgaria), Catalan (Spain), Croatian (Croatia), Czech (Czech Republic), Danish (Denmark), Dutch (Netherlands), Estonian (Estonia), Finnish (Finland), Galician (Spain), Georgian (Georgia), Greek (Greece), Hausa (Nigeria), Hebrew (Israel), Hindi (India), Hungarian (Hungary), Indonesian (Indonesia), Kazakh (Kazakhstan), Latvian (Latvia), Lithuanian (Lithuania), Macedonian (Macedonia), Malay (Malaysia), Norwegian (Bokmal, Norway), Persian (Iran), Polish (Poland), Romanian (Romania), Serbian (Serbia), Serbian (Serbia), Slovak (Slovakia), Slovenian (Slovenia), Swedish (Sweden), Turkish (Turkey), Ukrainian (Ukraine), Uzbek (Uzbek)
Dictation support
Microsoft is expanding Windows 10's Dictation support to devices using English (Canada), English (UK), English (Australia), English (India), French (France), French (Canada), German (Germany), Italian (Italy), Spanish (Spain), Spanish (Mexico), Portuguese (Brazil), and Chinese (Simplified, China) language.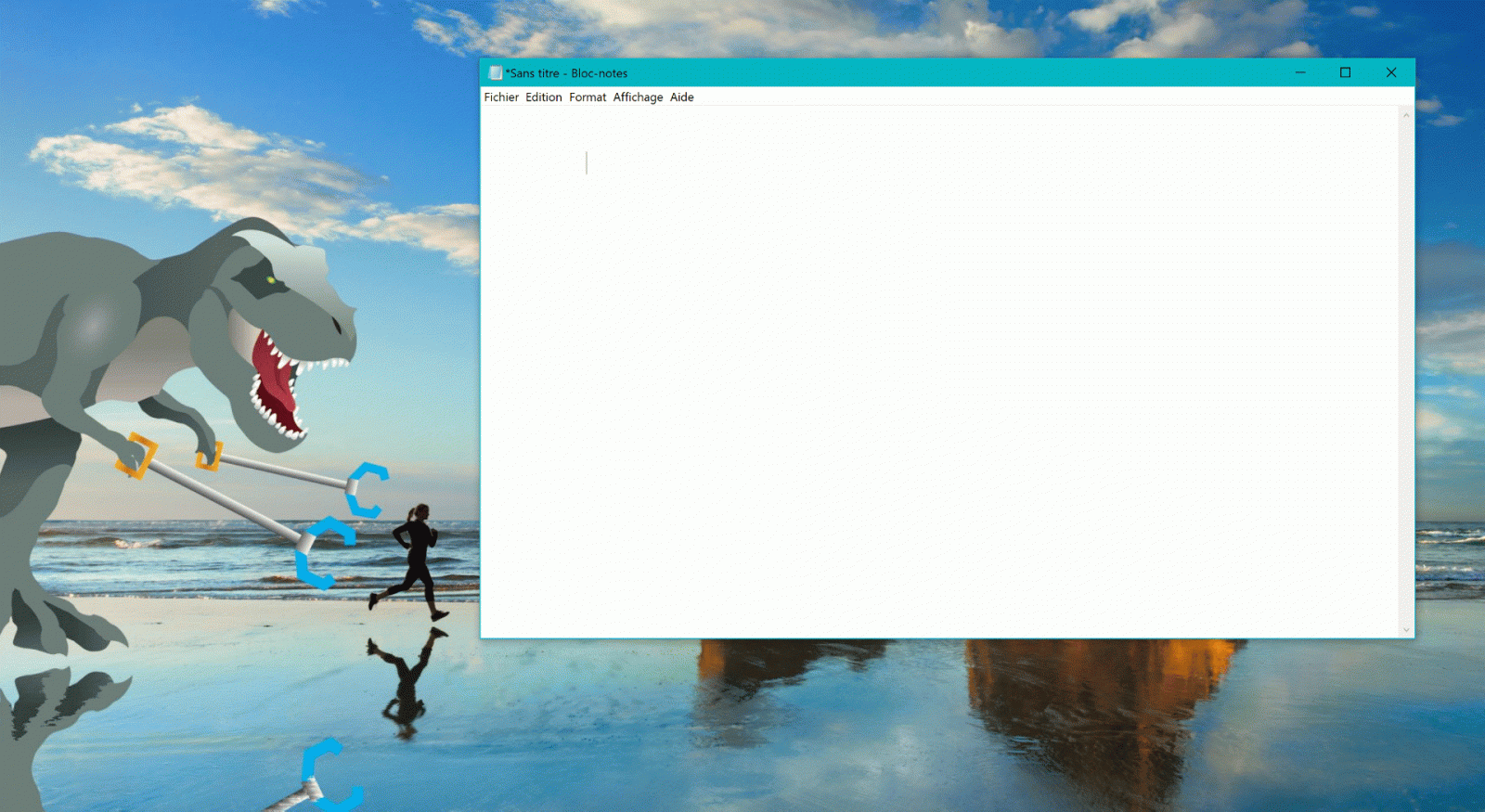 Users can access Windows 10's new and improved Dictation feature with Win + H keyboard shortcut when the focus is set to a text field
Language Settings
Microsoft is updating the Language Settings to make it easier for you to understand the language pack you've enabled for your Windows 10 installation.
This allows you to quickly find out the languages selected as default for Windows apps, display, websites, and as well as the Regional format and Windows Search.
For anyone interested, the full list of changes for each Insider release can be found on Microsoft's Insider Archive.
Come discuss the update with us on the Lunarsoft Windows 10 forum!